Unclouded
A job search and resume optimization tool

UI/UX Designer | Academic | 10 weeks | Figma

The challenge
Nobody likes job searching.
Cracking the perfect resume code to ensure you make it on top of the 'yes' pile is crucial to landing that dream job.
​But first, how do you land the phone interview?
Refining the problem
The shift in the job market as a result of COVID19 has created an issue of companies claiming they have multiple open roles while at the same time job seekers claiming they can't seem to get replies.
The solution
A job search and resume optimization tool for entry-level candidates. Allowing job seekers to download a tailored resume for their job of choice with relevant keywords and soft skills.

10-30
Seconds are spent scanning resumes
63%
of recruiters prefer tailored resumes
30-50
resumes are sent before a candidate lands a job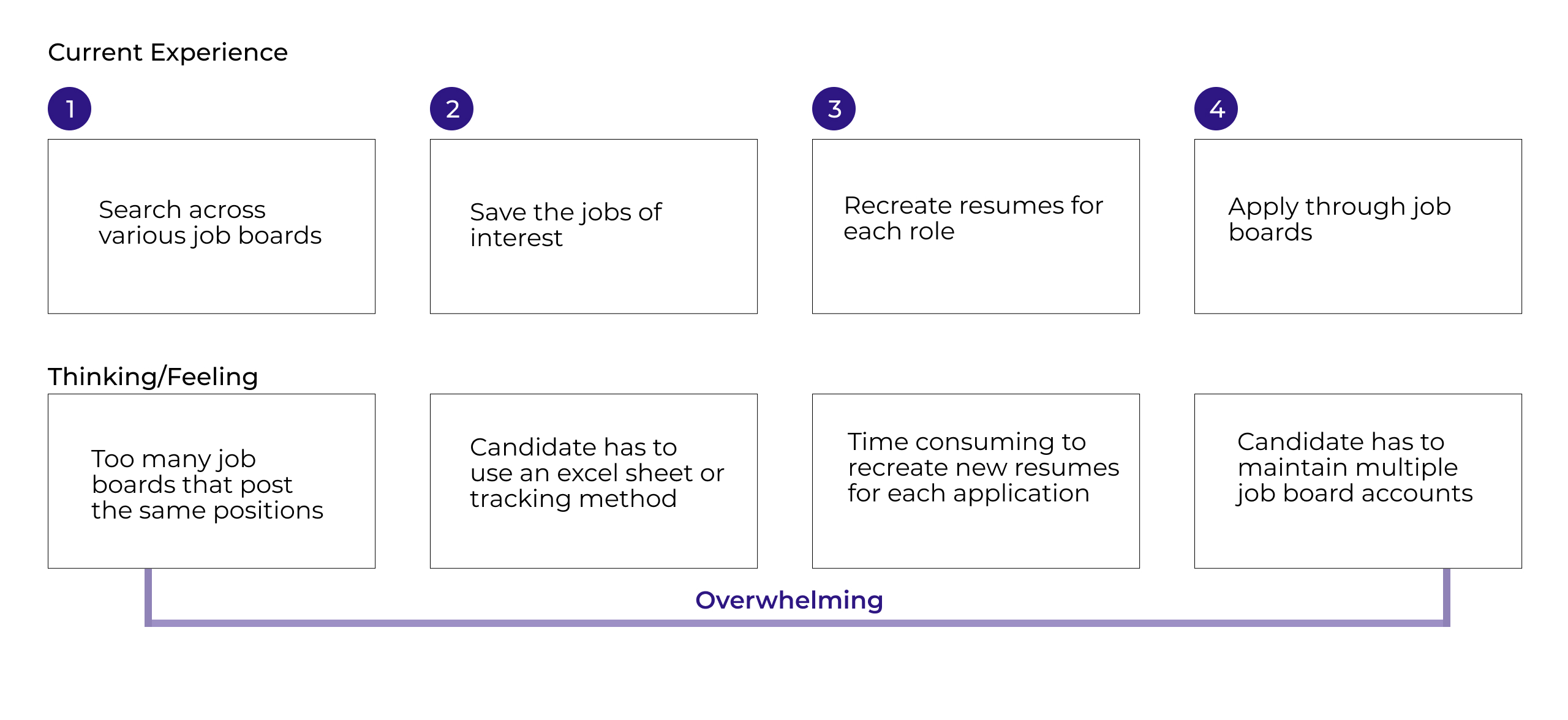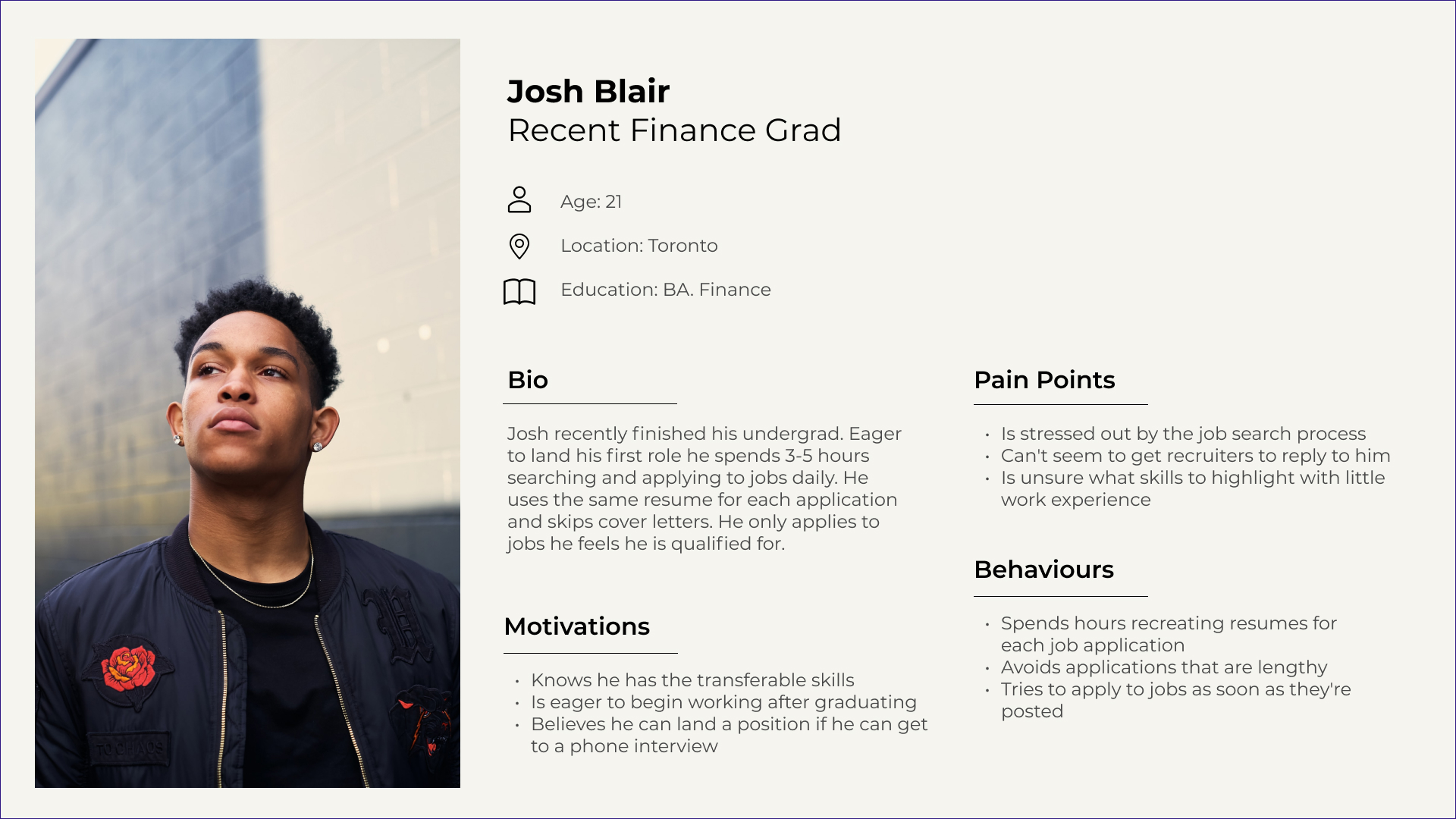 Persona
Based on user interview insights, affinity mapping and outlining the current experience of job searching I created the persona Josh.
Young job seeker
Makes subtle changes to each resume before applying

Searches 10-15 job boards a week to not miss any potential roles

Knows he can learn and grow quickly if given the opportunity

Reduce the stress caused by reaching out to recruiters online.
Feature
​Easy to generate templates that can be used for a variety of messages (following up on a job application, reaching out for an informational interview etc..)
Thought process
I rationalized that half of the stress of reaching out to recruiters was not knowing what to write while remaining professional. Young adults with little work experience may feel unsure or lack confidence in attempting to start the conversation. These templates would be a copy-paste ice breaker.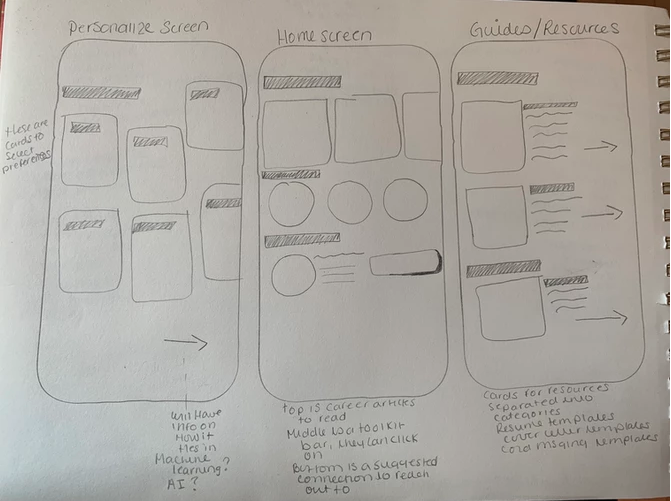 Sketches
To decide on a task, I wrote out a series of user stories under the archetype of a new graduate. I sorted those user stories into common themes called epics, selecting the epic of "The need for career services" to explore a task flow.

After gathering UI inspiration surrounding career services, resume builders, professional development services I sketched out a series of screens to help out persona reach out to recruiters online through cold messaging.
Goal
Reduce the stress of reaching out to recruiters online

Make it easier to contact multiple people

Provide guidance on who a job seeker should reach out to
Redirecting
Why I switched directions

1. Reaching out to recruiters was stressful however, not mandatory in the application process
2. I did not take into account recruiters not liking to receive more messages on LinkedIn
3. I overlooked the most stressful part of the job search - the actual search and resume modifications
4. The proposed solution would not necessarily help recruiters land more candidates
​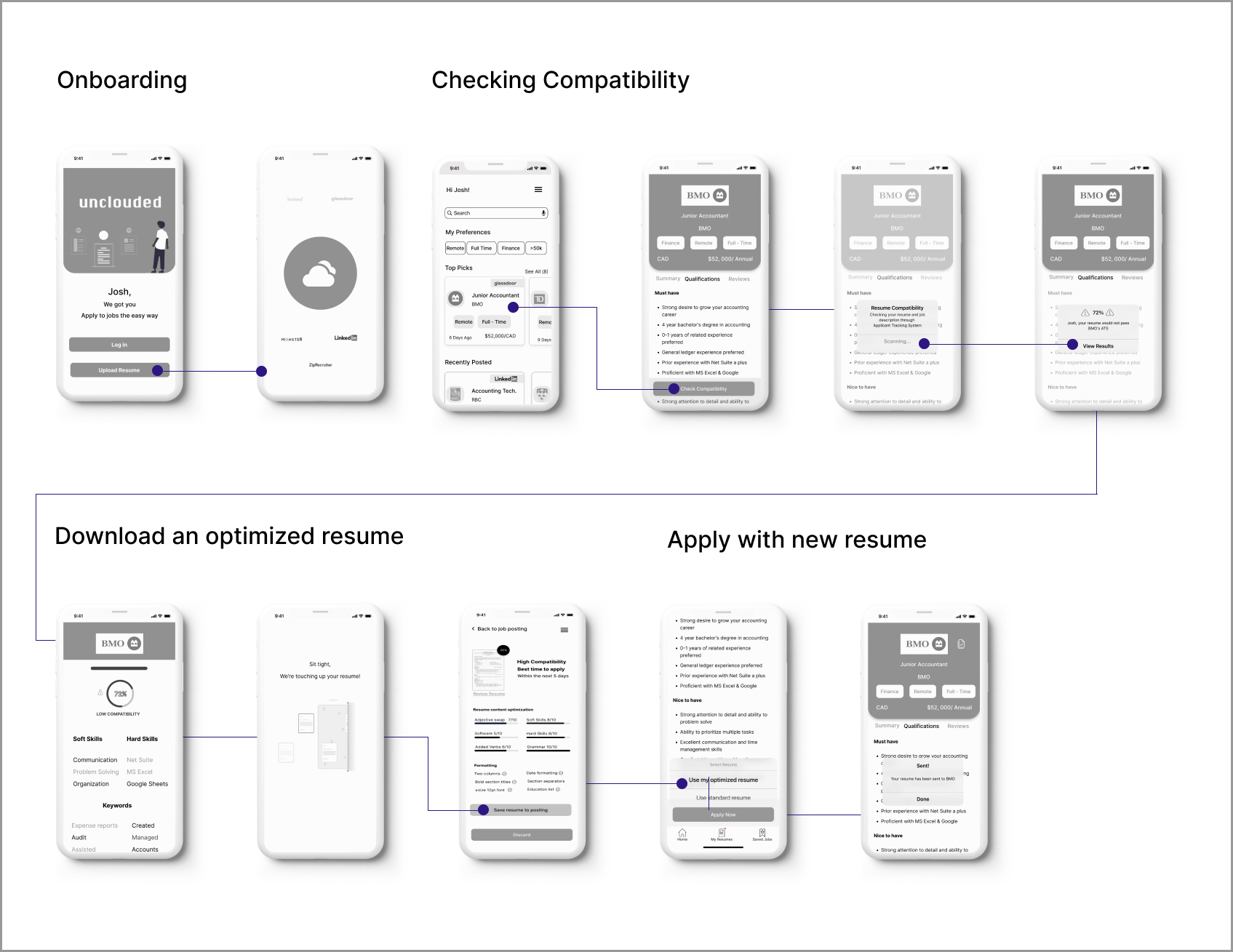 Goal: Reduce the time spent job searching and recreating resumes
Features
1. View multiple entry-level jobs from various platforms in one place​
2. Ability to scan your current resume against the job description to check compatibility of soft skills and keywords
​3. View compatibility results and download a job specific resume
Thought Process
I went back to the drawing board, recognizing that the first step in landing a job is to apply. However it is not uncommon for people to hold back on applications due to the search time and resume modifications required for every single application. If these two elements could be shortened, the persona could effectively apply to more jobs daily.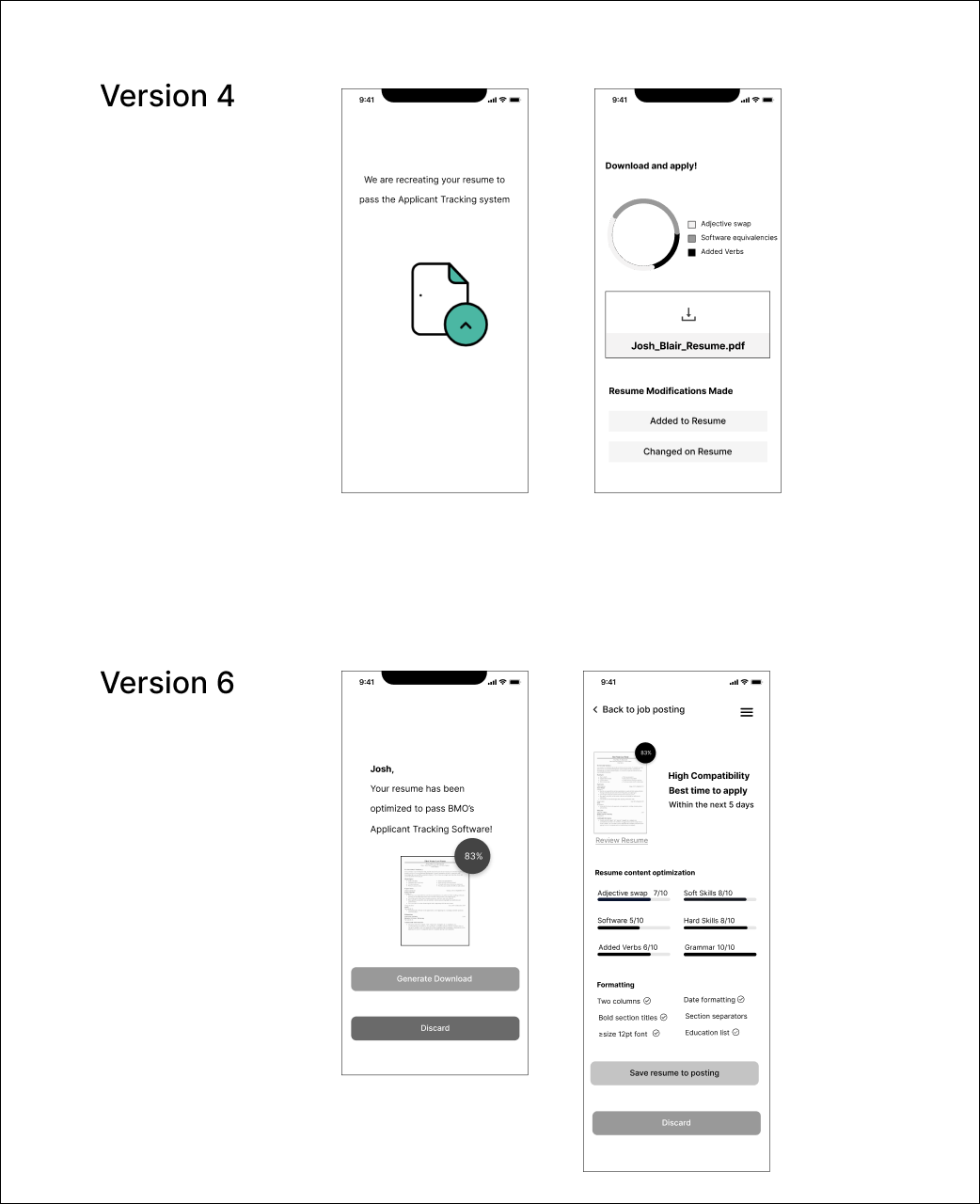 Usability testing
With two rounds of testing and a total of 10 participants. I plotted the most common usability issues and feedback on a prioritization matrix to guide the iterations.
The major iterations made were:
Users wanted the option to review the optimized resume

Users expressed the desire to be able to cancel or restart throughout the process

I felt that I could provide the users with better data visualization of what changes were made to their resumes

A more conversational tone in the copy
Content with version 6, I went on to create the branding and final UI.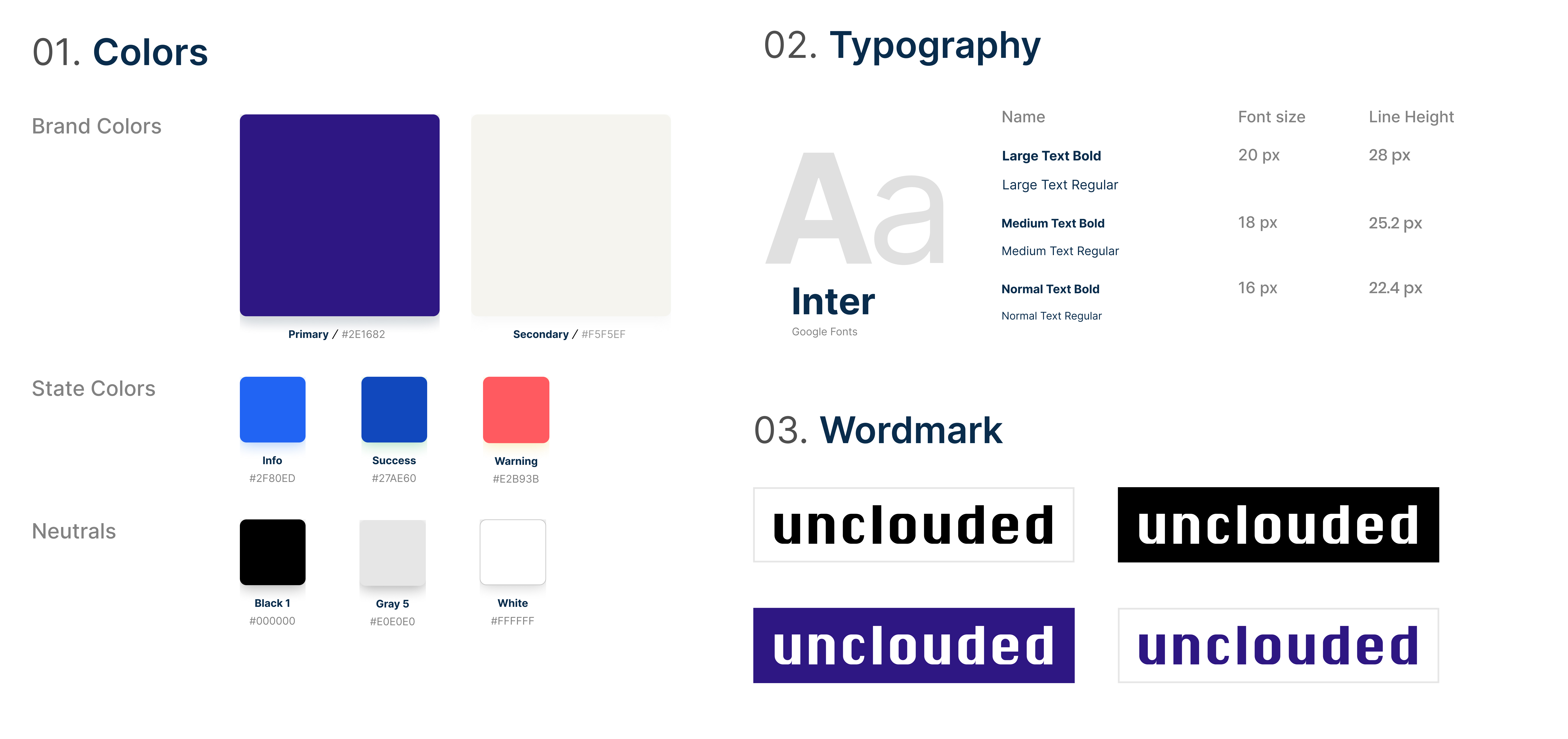 UI Design
After two additional rounds of successful user testing with this flow, and a design prioritization matrix to guide the iterations I brought the proposed solution to life through Figma. I focused heavily on reducing the amount of noise on each screen to have a succinct flow that could be anticipatory.
Corporate | Light | Native IOS



01.
User testing to guide iterations
You can write here as much as you There were moments where I wanted to change UI elements and screens for the visual impact but I had no idea if those changes enhanced the user experience. As I want to focus on UX I need to remind myself to be very strategic with any changes I implement.
02.
Less is more
When I first started ideating, I had a huge idea with multiple flows and potential uses. Ultimately that performed poorly in user testing because I wasn't clear enough to myself what I was trying to do.
03.
ATS Depiction
Throughout the process, I found a lot of conflicting information on how ATS works. Some punchy stats stated that recruiters used them as auto-rejection filters, where other information claimed that was a common myth. Either way, I recognized that framing a battle against a resume filter made for a strong marketing angle.
05.
Do people really need another app?
Before the pivot, I struggled with convincing users the need for my initial prototype of cold messaging templates. It made me realize that users are highly selective of the apps they want to download and if they don't see immediate necessity, convincing will fall short.